Welcome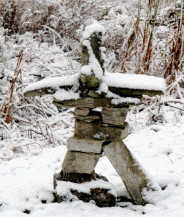 The traditional meaning of inukshuk is "someone was here"; but it also means "you are on the right path." 
Management Consulting:
We help your organization improve its performance by analysizing your existing organizational issues and working with you develop plans for improvement.  
Our consultancies often involve providing organizational change, management assistance, development of coaching skills, process analysis, technology implementation, strategy development, or operational improvement services.
Our focus is working with management teams in the non-profit sector.
Communication/Mediation Consulting
We use a negotiated communication approach to effective communication which focuses on a win-win for all.  These communication skills are at the heart of mediation.   
We provide mediation services to assist parties to come to a mutually beneficial resolution of their issues.
Our on-line communication strategies have evolved into a separate business providing internet strategies for individuals, organizations and businesses.